An innovative, non-invasive technique of a massage with constant suction between motorised rollers to help fight cellulite and tone the skin.
The science of cell stimulation developed by LPG. It reactivates deep dormant cellular activity by mechanically stimulating the skin to treat different types of tissue, including cellulite, adipose, edematous, fibrous, adherent, inflammatory, thin, fragile, and relaxed tissue. This treatment is best taken as a course of either 12 or 14 treatments and when taken in conjunction with a healthy regime of good eating and sensible exercise. Ideally the course should be followed by monthly or two weekly maintenance treatments.
Course of 12 (get one session free)
Course of 14 (get two session free)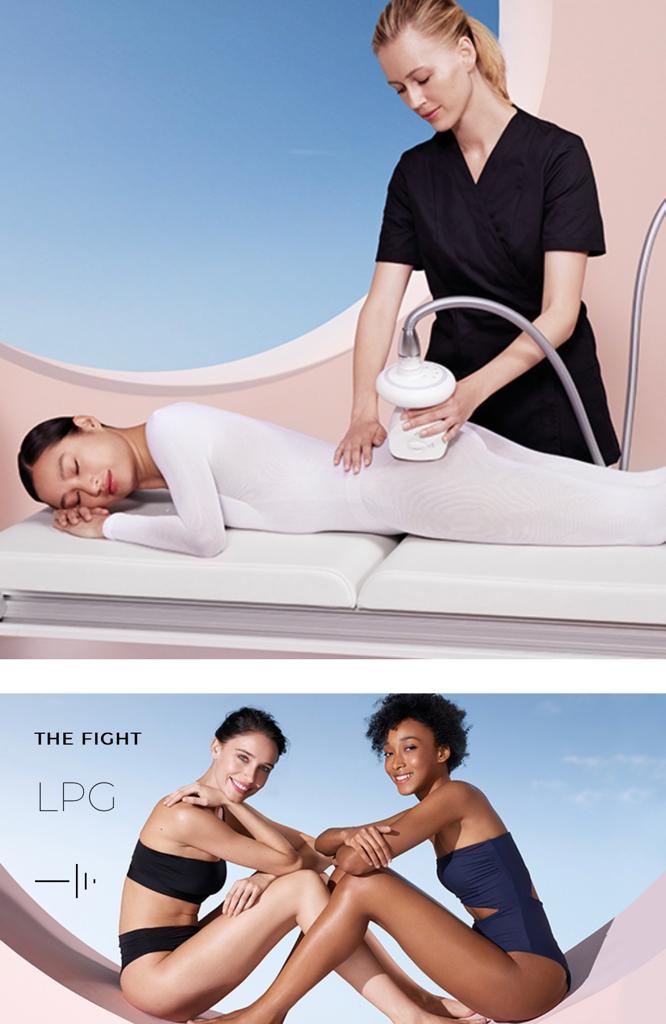 De-stress Back, Neck & Shoulder Massage
This is a very relaxing type of massage; the duration of 1 treatment will ease stress and strains. De-stress massage concentrates on the neck, shoulders and back and relieve stiffness, tension and tired muscles.
One of the best and most effective ways to treat pain and injury. Firm pressure is used to release tight layers of muscle and tissue, which usually develops from bad posture, injury or overuse. Restoring movement in the soft tissues alleviates pain, muscle spasms and stress from the problematic area. An effective and beneficial form of physical therapy.
Detox Anti Cellulite Leg Massage
To stimulate or move the excess fluid away from the swollen area so that it can drain away normally. Encourages and improves drainage in the healthy lymphatics.
Releases the stress accumulated in the tissues, muscles and joints of the head, face, neck and shoulders. Helps to increase joint mobility and flexibility in the neck and shoulders, improves blood circulation and lymphatic flow, frees knots of muscular tension, relaxes connective tissue, and aids in the elimination of accumulated toxins and waste products. It is particularly good for reducing the effects of stress and tension.
Pregnancy massage has been found to reduce stress, decrease swelling in the arms and legs, and relieve aches and pains in muscles and joints.
Manual Lymphatic Drainage
A gentle massage that stimulates the body's lymphatic system, improving the metabolism, assisting the body to eliminate waste and toxins boosting the immune system.
Long, smooth strokes, kneading and other movements focused on superficial layers of muscle using massage oil or lotion. Improves circulation by bringing oxygen and other nutrients to body tissues.
For specialist Thai massage bookings and prices, please contact us on 020 7584 6777.
De-stress Back, Neck & Shoulder Massage
La Stone Therapy aids in brining inner balance to the mind and body, which causes a deep sense of relaxation where stiff and sore muscles in particular are benefited. Cold and hot stones are provided for the treatment. It has been scientifically proven that alternating cold and hot treatments are beneficial to the body by enhancing the body's circulatory system.
Aromatherapy uses aromatic essential oils to enhance wellbeing. Aromatherapists blend therapeutic essential oils specifically for each individual and suggest how to use them to stimulate the desired responses. It is used to alleviate symptoms of headaches, insomnia, stress and digestive problems.
A method of alternative therapy using compression to reflex areas found mainly in the feet. The feet are like a map of the body – by massaging these, the whole body is being treated, releasing tension and improving circulation, thus bringing about the body's own natural balance. An interesting and popular treatment.
Calms the mind and clears the ears.